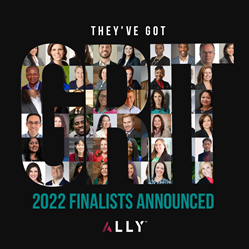 "This year's Best Energy Workplaces and GRIT Awards finalists are a diverse cohort of groundbreaking entrepreneurs, courageous leaders, collaborative teams and companies committed to fighting climate change."
HOUSTON (PRWEB)
September 23, 2022
ALLY Energy is proud to announce that the 6th Annual GRIT and Best Energy Workplaces Awards will be held on October 26, 2022 at The Bell Tower on 34th Street in Houston, Texas and online with thousands expected. The awards are considered by many to be the most prestigious and significant recognition in the energy industry worldwide. Nominations are open to the public. The shortlisted finalists include 75 leaders, 21 teams, and 15 companies with representation around the world in oil and gas, power and utilities, wind, solar, hydrogen, nuclear, climate technology startups, and academia. Learn more, register or sponsor the GRIT Awards, visit here.
The Honorable Shalanda Baker, Director of the US Department of Energy's Office of Economic Impact and Diversity and Secretary Counsel on Equity, will be the keynote speaker. Ms. Baker, author, energy policy leader, attorney, and graduate of the United States Air Force Academy will speak about fairness and justice and what they mean for the energy transition.
"The finalists for this year's GRIT Awards and Best Energetic Workplaces are a diverse cohort of game-changing entrepreneurs, courageous leaders, collaborative teams and companies committed to fighting climate change. The workforce of energy is doing great things to transform our energy ecosystem and we are excited to highlight exceptional talent and culture," said Katie Mehnert, Founder and CEO of ALLY Energy.
ALLY Energy is committed to a fair and equitable process and in 2022 launched advanced bias reduction technology to evaluate candidates more equitably. Winners are selected through a blind review of the application by outside judges. This year, ALLY Energy is honoring four Lifetime Achievement Award recipients for the first time. Winners have demonstrated a distinguished career advocating for energy and climate change in the public or private sector in the areas of technology, policy and workforce.

Honorable Sylvester Turner, Mayor, City of Houston
Elizabeth Gerbel, Executive Director, EAG
Lorenzo Simonelli, CEO, Baker Hughes
Kevin Sagara, Executive Vice President and Group President, Sempra
Finalists in this year's awards include
JEDI Award

Alycia Ahrens, Shell, Senior Project Engineer
Andrew Paul, ChampionX, District Manager, Oman and Qatar
Aparna Kakani, Baker Hughes, Director, Technical Product Management
Hang Bower, Ethos Consulting LC, CEO and Founder
Lwanga Yonke, Aera Energy LLC, Process Analyst
Tre Simms, Southwestern Energy, General Manager, Business Development
Vikrant Lakhanpal, Proline Energy Resources Inc, Petroleum Engineer
ESG/Climate Champions

Alexander John Cruz, Baker Hughes, Knowledge Manager, Energy Transition Solutions
Allyson Anderson Book, Baker Hughes, Vice President of Energy Transition
Amanda Copperthite, Honeywell, Vice President, Strategy, Marketing, Consulting
Daniel Cohan, Rice University, Associate Professor
Heidi Stehling, Baker Hughes, Energy Transition Emissions Excellence Leader
Jonathan Dethloff, Aera Energy LLC, Carbon Technology Leader
Kelsey Hultberg, Sunnova Energy International Inc, Executive Vice President, Corporate Communications and Sustainability
Promotion Manager of Loan Tran, ExxonMobil, GHG and Climate Change
Maggie Teliska, Enel North America, BESS Tech Services Manager
Maruthi Devarakonda, ChampionX, Senior R&D Manager Emissions
Rakhi Oli, Flowserve Corporation, Global Strategy Leader
Smitha Hariharan, Halliburton, Global Chief Sustainability Officer
Professionals

Angelique Mesch, Baker Hughes, Senior Director of Digital Products
Arthi Vasudevan, Baker Hughes, Senior Product Manager, Cyber ​​Security
Bhakti Salunkhe, Puranik Foundation, Executive Director
Brandon Georgetown, ChampionX, Supply Planner
Catalina Leal Isaza, Baker Hughes, Director of Product Quality
Charles Huck, EAG, Senior Manager
Chineye Agbaje, Olidata Energy Group, Business Development Executive
Crystal Martinez, Certarus, Technical Training Lead
Daniel Klick, Shell, Project Manager
David Rodríguez, Enel North America, Director of Innovation
Deanna Zhang, ETM Advisors, Advisor
Devon Peterika, Worley, Regional Diversity and Inclusion Manager
Dominique Brister, Marathon Oil, Executive Reporting Senior Analyst
Ellen Teresa Scott, Southwestern Energy, Human Resources Senior Business Associate
Gagandeep Bhatia, Baker Hughes, Senior Technical Product Manager
Jacinta Williams, ExxonMobil, Guyana Senior Project Manager
Kim Sabate-Strazde, Baker Hughes, Human Resources Partner
Kim Pinyopusarerk, Callon Petroleum Manager, Sustainability and Communications
Lille Kom, Halliburton, Finance Manager
Mariam Lakhani, Marathon Oil, Planning Manager, Africa and Conventional Assets
Mervin Ekpen Azeta, Schlumberger, Global Flexible Work and Culture Project Manager
Nicole Hart Waggoner, University of Nevada, Reno, Graduate Research Assistant
Noureen Faizee, Worley, Chief Strategy Officer
Oghogho Effiom, Shell, domestic gas business opportunity manager
Patty Whitmire, EAG, Director of Lands
Preshit Gawade, Baker Hughes, Executive Director New Energies
Robin Evans, Worley, Director of GID
Wednesday Wednesday, Baker Hughes, Training Innovation Specialist
Sarah Phillips, Knight Energy Services, Petroleum Engineers Account Manager
Stefano Mazzoni, Mazzoni Geoscience, Consulting Geoscientist
Stephanie Scollard, Wood Mackenzie, Senior Product Owner
Tola Oloyede, Total Energies, Director of Human Resources
Victoria Brown, EAG, Controller
Yogashri Pradhan, Coterra Energy, Reservoir Engineer
Zainub Noor, Halliburton, Director, Scouting and Innovation
GRITTY Girls, sponsored by Ovintiv

Abhaya Chopra, University of Houston, President of the Energy Coalition
Chioma Onwumelu, University of North Dakota, Assistant Research Scientist
Ogochukwu Ozotta, University of North Dakota, Graduate Research in Geosciences
executives

Cheya Dunlap, Honeywell, Director of Inclusion and Diversity
Ed Ashton, Halliburton, Strategic Business Manager
Gretchen Gillis, Aramco, Senior Geological Consultant
Heather Cykoski, ABB, Group Vice President
Hilde Pihl, Equinor ASA, Senior Vice President
Kara Branch, Black Girls Do Engineer Corporation, Founder and CEO
Kristen Lipski, Halliburton, Vice President, South Central Area
Liz Dennett, Wood Mackenzie, Vice President, Data Architecture and Engineering
Mark Eley, ChampionX, SVP of Marketing and Technology
Sandy Lee, Saber Equity, an S&B Company, CEO
Sonya Batchelor, Baker Hughes, Vice President, Strategic Accounts
Tania Zachari, Técnicas International Corp, Executive Director
Entrepreneurs

Hans-Christian Schulze, IOWN Renewable Energy Inc., CEO and President
Kelsey Putman Hughes, Sun Wolf Energy, CEO
Rita Hansen, Onboard Dynamics LLC, CEO
Suman Khatiwada, Syzygy Plasmonics, CTO and Co-Founder
Trevor Best, Syzygy Plasmonics, CEO and Co-Founder
Best teams and ERG, sponsored by ChampionX

50/50 women on directories
AAPG Women's Network
ASIA Network, ChampionX
Asian American Resource Community, Marathon Oil
Black employees and allies, Marathon Oil
D&I Group Celle Germany, Baker Hughes
Hug, Woodside Energy
Essence, ChampionX
FEMALE, Enbridge
Creating Networks, Worley
LatinX Network, Baker Hughes
Lean in equity and sustainability
PRIDE @ Work, Baker Hughes
PRIDE Network, Halliburton
Red RISE, ChampionX
Red SEED, ChampionX
Sustainability Team at Worley
Women Adding Value Everywhere, Shell US
Women in Climate Technology
Women's Network, Marathon Oil
Women's Pipeline to CEO, Worley
best workplaces

air power
Baker Hughes
ChampionX
GAE
Enel North America
cutting edge power
IOWN Renewable Energies
marathon oil company
Cycle N
ovintive
Sunnova Energy International
Plasmonica Syzygy
TGS
TPI compounds
Wood
About ALLY Energy™ and the GRIT Awards
ALLIED Energy is the leading energy and climate talent community and marketplace accelerating connections, careers and skills for a just energy transition. The community includes professionals, leaders, entrepreneurs, and students in 120 countries at nearly 3,000 energy companies in oil and natural gas, utilities, renewable energy, and climate technology. ALLY is an inaugural member of Greentown Labs, North America's largest climate technology incubator for high-growth companies. The GRIT Awards and Best Energy Workplaces are the only annual energy workforce recognition program of its kind that uses bias reduction technology to evaluate winners.
Share the article on social networks or send an email: