get complete details of Augusta University athlete's college experience leads to teaching career and husband-to-be – Jagwire
from here, checkout more details.
As a child growing up in Northern Ireland where sports weren't as prevalent, Cassie Lagan worked to become the talented runner she is today.
Lagan grew up in the small town of Omagh before joining Augusta University in 2020, where he earned three second places, including an Aid to women's cross country team to a top-10 finish at the Virginia Tech Alumni Invitational in Blacksburg, Virginia in September and a third-place finish at the Peach Belt Conference championships on November 5.
He said that growing up in Ireland was different from his current life in the United States.
"It was a super small population in Ireland," he said. "My middle school was mixed with middle and high school grades of only about 500 students wearing the same uniforms, and there wasn't a lot of diversity at home compared to Augusta, so that's something I've noticed since I've been here."
Lagan began running cross-country and track and field when she was 16, saying her interest in running stemmed from the encouragement of her peers.
"At first, I was just doing some fun runs, and then people said I should join a running club," said Lagan, who is studying for a high school degree from the Faculty of Education and Human Development. "I did that and I started to get better and better. I knew people from my hometown who also recommended it, that's how I started running. I played field hockey until I was 13 or 14 years old, but I saw other people excel in the field and I was hooked.
Lagan has four older siblings: Jamie, Fintan, Taine, and Joanne. Many of Lagan's family members were into sports, including her father, and they all helped shape her into the athlete she is today.
"My sister didn't play sports, but all three of my brothers are rugby players," Lagan said. "My mum was very supportive and came to all my races at home, and my dad was also a rugby player before he became a rugby coach, so he made me very competitive in racing because he pushed me. to take it seriously."
Lagan graduated from Omagh Academy in 2020 and said that enrolling at AU was an easy decision for her.
"This was the only school I visited in November 2019," Lagan said. "I got to meet the team and see all the places we raced and all the buildings on campus and it wasn't too crowded or too big a city so I felt like it was a good place to be."
Although choosing to attend AU was easy, Lagan said deciding his career path was not.
"Back home, I was torn between going to medical school and being a teacher," she said. "When I returned home, I could see both atmospheres. I was in both a hospital and an elementary school, and I just preferred the setting and environment of the school. I want to be a high school teacher, but I also want to get a physical education teaching certification and possibly work as a cross country coach as well."
Lagan has made great memories throughout his time at AU.
"I was very happy to win a bronze medal in the Peach Belt Conference after coming back from injury my freshman year," he said. "Being able to travel to Florida and Virginia and attend many events at AU with my roommates, like formal sorority events and Greek life events, it was also a lot of fun to participate in."
One of Lagan's roommates is Riley Triplett, a sophomore. important in communication and female cross country runner. Triplett said that Lagan has taken on more of a leadership role with the team this season.
"She's definitely a leader," Triplett said. "She's the oldest and the fastest, and she helps us warm up and she's done a good job taking the freshmen under her wing."
While in Augusta, Lagan met her fiancé, Ryan Webb, who works with satellite control in the US Space Force. She said their relationship began at the end of their freshman year.
"In fact, I met him in May 2021 through my neighbors," he said. "He was stationed at Fort Gordon for the Army before going back to Kentucky and then Hawaii, so he had to move sometimes, we felt the timing was right because with my major, it allows me to move with him. ."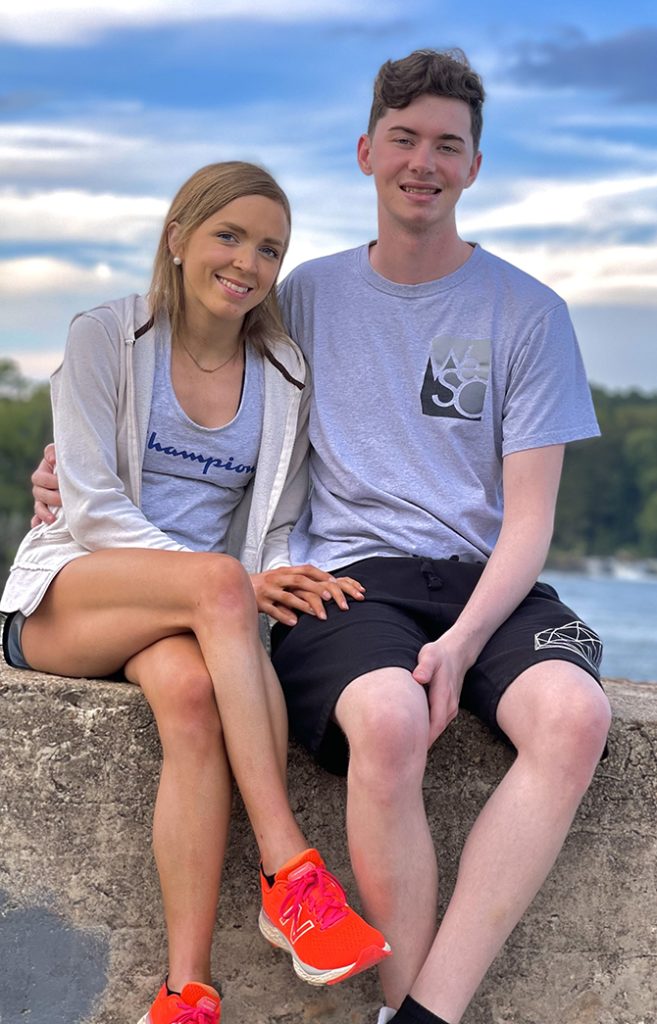 With her recent engagement, Lagan shared how difficult it is to navigate between studying, training and planning her wedding.
"I think this semester has probably been the hardest," he said. "Because I'm in the education program now, we have to go to the middle schools and complete observations and homework, while also spending three to four hours practicing every day. And then with my other classes on campus, like biology and geography, and my job at the Campus Recreation Center, I really don't get a break."
Emma Connelly, the senior building manager at the Campus Recreation Center and a second-year business student at the James M. Hull College of BusinessHe said that Lagan brings many qualities to the CRC.
"She's just a quick thinker," he said. "When they call her, she doesn't overreact to things and she gets things done. She works every weekend when she doesn't have track meets, she is dedicated to working for us and willing to help all the time."
patsy davisassociate director of campus recreationhe also shared what makes Lagan stand out as an employee.
"She helped a lot this summer," he said. "She Came Back And Filled The Shifts We Really Needed To Cover And She Is Reliable. We have quite a few expectations because she is a huge responsibility with no professional staff on the weekends, so we need someone super reliable and smart, and she is that person for us."
With the 2022 cross country season underway and track and field approaching spring, Lagan has high goals not only for herself, but for the women's team as well.
"I am currently in the top two positions in the team this year and I hope to stay in that position," Lagan said. "For the conference, I want to be able to at least make the top five individually, and then for the regionals, I would like to be in the top 20. I think I could get there, but I hope the team could get to nationals as well."