James says she plans to stay in their posts as finance minister and deputy prime minister for as long as she can.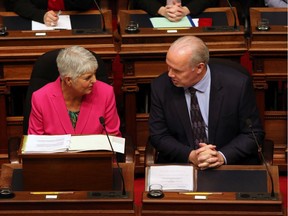 Article content
Carole James, BC's finance minister and deputy premier, has been diagnosed with Parkinson's disease, a degenerative nerve disorder, and says she will not seek re-election next year.
Article content
James, 62, says he plans to stay at his posts for as long as he can.
James, who has served in the BC legislature as the MLA of Victoria-Beacon Hill since 2005, says he developed a slight tremor in his hand last summer and has occasional problems with his balance.
Article content
"But when I mentioned the problems to my family doctor during a routine checkup, she ordered a referral to a neurologist," James said Thursday. "I saw the neurologist at the end of January of this year, underwent a series of tests and the diagnosis was Parkinson's disease."
James says that while Parkinson's isn't a disease that nobody wants, it's not a terminal diagnosis.
"There is no cure, but there are treatments and medications to treat the symptoms as they appear," said James, who does not take medication.
James, who served as BC NDP leader from 2003 to 2010, plans to serve out the remainder of his term but will not run for re-election.
"I have had the privilege of serving the people of Victoria-Beacon Hill since 2005 and I will take time over the next year and a half to express my gratitude to my community," he said.
Article content
News of her diagnosis sparked emotional reactions from both sides of the house Thursday.
"Parkinson's is tough. Without diminishing the severity of the disease, Carole James is tougher," Prime Minister John Horgan said on Twitter. "She has spent her entire public life fighting as hard as she can to improve people's lives and I know she will bring that spirit to this next challenge."
Interim Green leader Adam Olson said James embodies what it means to be a politician who goes to work every day focused on improving people's lives.
"Anyone who works with her can see how deeply she cares for the people of our province," said Olsen, MLA for Saanich-North and the Islands. "Even in presenting this diagnosis, Minister James's focus has been on the well-being of others facing this disease."
Article content
Longtime liberal MLA Shirley Bond said James will be in her thoughts and prayers.
"To say that I feel sad today would be an understatement. Carole James and I have been in the BC legislature together for a long time, both also serving as school administrators. Carole, I appreciate the person you are and your public service," Bond said in a tweet.
Before entering politics, James was president of the BC School Trustees Association and served on the Greater Victoria school board.
Her legislative bio says she also worked as the director of children and family services for Carrier Sekani Family Services in Prince George.
In 2006, she underwent surgery and radiation therapy after being diagnosed with localized endometrial cancer.
James is married to Albert Gerow, a First Nations artist and elected chief of the Burns Lake First Nation. The couple have two children and two grandchildren.
— With archives from The Canadian Press
---
CLICK HERE to report a typo.
Is there more to this story? We'd like to hear from you about this or any other story you think we should know about. Email [email protected]