Surrounded by majestic chestnut trees, imposing mansions and generous sidewalks, Avenue Montaigne in the heart of Paris's 8th arrondissement has an air of quiet, elegant grandeur.
The casual stroller will notice the Hôtel Plaza Athénée's signature red awnings, the fashion scene outside L'Avenue restaurant, and well-heeled shoppers enjoying the strip of luxury boutiques bearing the Prada, Gucci, and Chanel names. The Seine lies just to the south; the Palais de Tokyo and the Musée d'Art Moderne are a stone's throw away.
When Christian Dior founded his haute couture house here in 1946, was a calculated move designed to appeal to the neighborhood's cultural and financial elites. Fast-forward to 2022, and 30 Avenue Montaigne has reopened after a major two-and-a-half-year renovation. But how does a traditional fashion giant, now owned by luxury goods conglomerate LVMH, translate the power of the 1947 New Look to a 2020 audience?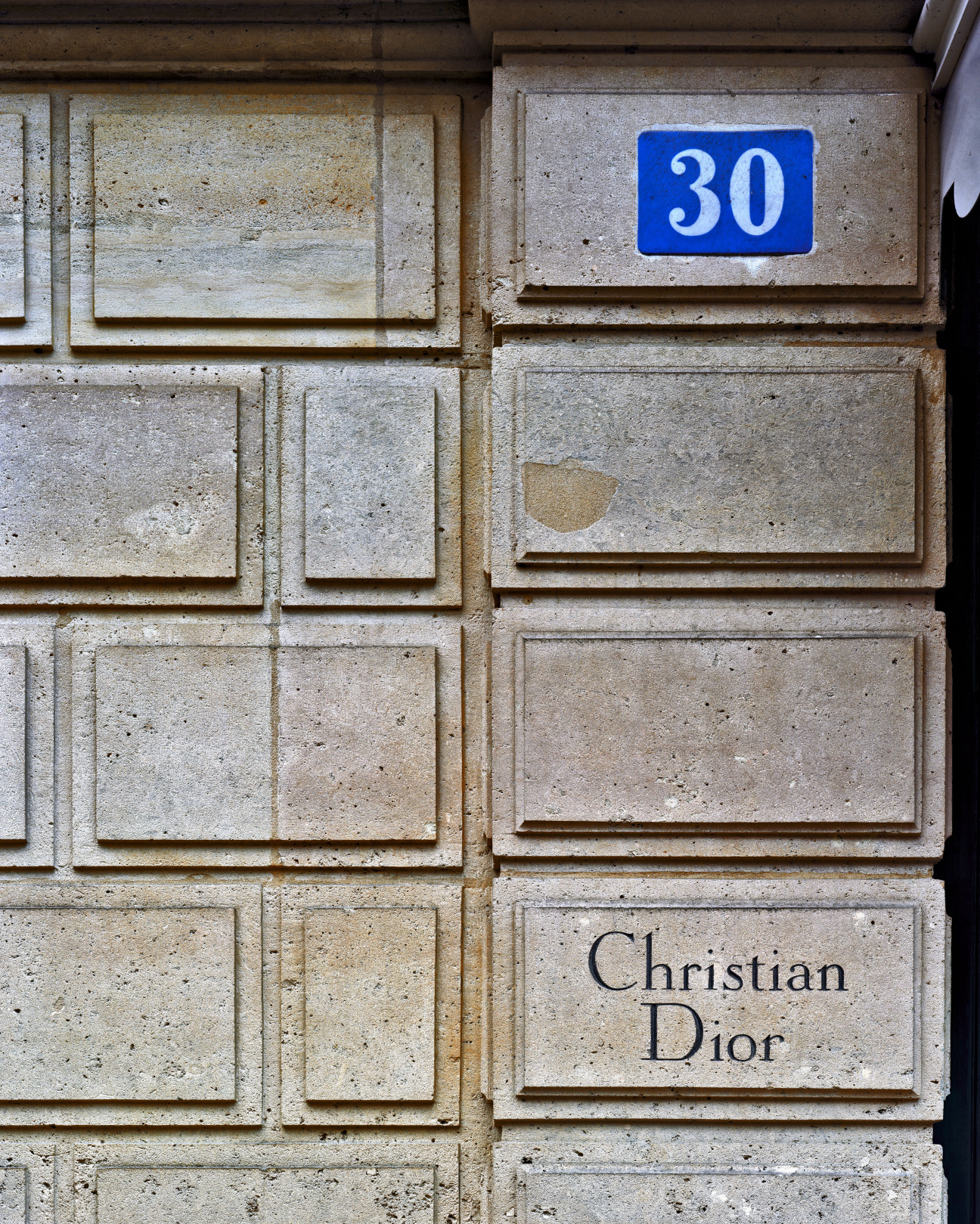 Originally built in 1865 for the widow of a politician rumored to be the illegitimate son of Napoleon, the building, created in the grand Haussmannian style, was in the perfect location and had all the potential to fulfill Dior's vision. As he famously said of his: "Living in a house that doesn't look like you is a bit like wearing someone else's clothes."
Dior's interest in interiors had originally been cultivated by his mother, who involved the young Christian in decorating the family home in Granville, Normandy. Later, in Paris, working with fashion interior designers Victor Grandpierre and Georges Geffroy, and absorbing the influence of his contemporaries (before setting up his fashion house, he briefly worked as an art dealer for Duchamp, Dalí and Man Ray) , Dior developed a design code that resonates to this day. The result was a combination of neoclassicism, Louis XVI style (think ormolu, large potted palms, and imperial tents) and the restraint of a gray and white palette, including florals (via the recurrent motifs of the lily of the valleys and the rose) and perfectly proportioned and rigorous lines (after all, this is the creator of the Bar jacket and the Y-line dress).
The creators of version 2.0 of 30 Montaigne took all of these ingredients, bombarded them in a time machine, and reconfigured them into a shining 21st-century beacon of expertly crafted experiential brand storytelling. The original building, save for the façade, has been completely transformed, wrapping around the adjacent street and now encompasses more than 107,000 square feet (10,000 square meters) of boutiques, as well as a museum, restaurant, patisserie and gardens. There's even a hotel suite, where spending the night will give you the keys to explore the place at your leisure, as well as the chance to see up close a triptych by Guy de Rougemont and furniture signed by Thierry Leproust and Yves Klein.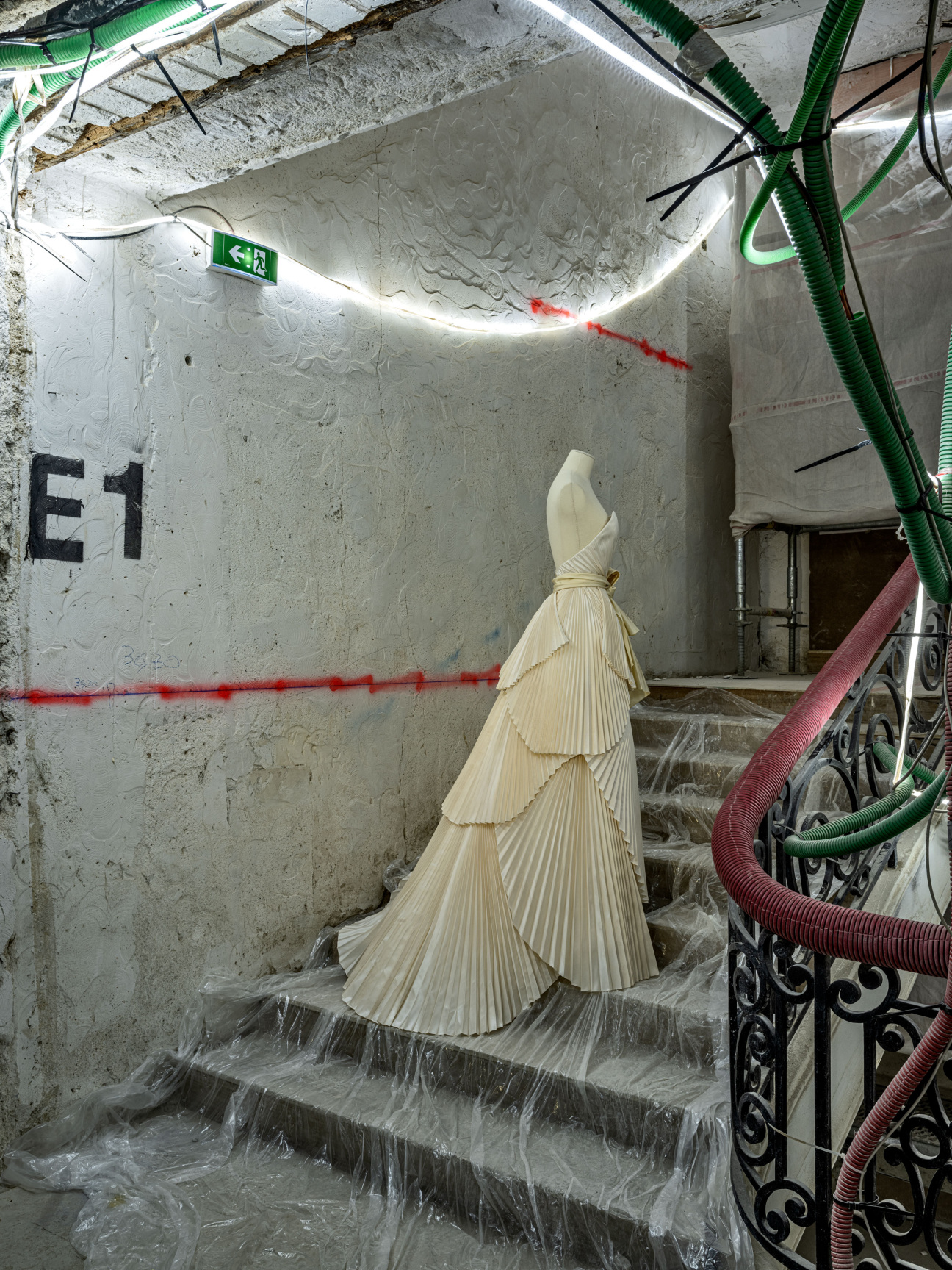 Helping pull off this 21st-century iteration was brought in by architect Peter Marino, who says LVMH CEO Bernard Arnault's brief was to make the store "unexpected, new, stylish and playful"; garden designer Peter Wirtz, famous for remodeling the Tuileries Gardens in 1990; and the set designer Nathalie Crinière, who was inspired, "mainly by looking through the windows of La Galerie Dior and thinking of [herself] that Christian Dior and his successors had also looked at the street and the sky from those same windows".
As in a grand European cathedral, upon entering the store the visitor's eyes are drawn upward, first by an original ceiling light sculpture by Paul Cocksedge, which Marino describes as "abstract white leaves falling freely into the space", and then up the enormous spiral staircase into the light-filled central atrium, at the top of which sit the haute couture studies
Strolling around (there is no clear direction of travel, but instead one is encouraged to discover the space intuitively), guests can listen to selected music from Dior's own collection in the elevator, sit in chairs upholstered in houndstooth Miss Dior checks and he even eats a "New Look" Croque from the menu, inspired by the Dior archive.
As if following a treasure hunt, the beaded-eyed Dior aficionado will notice how the symbols of the house have been woven into the décor, such as the white Corian walls in the gallery café adorned with Cannage stitching, the Parquet floors from 18th-century Versailles, the star motif of Dior's own gris-gris or talisman, which is emblazoned on the door handles and coasters, and the medallion chairs artfully reimagined by designer Sam Baron as a unique seating arrangement. joint for the guests.
Immersive installations are nothing new at exhibitions these days; however, the house of Dior has really kicked things up a notch. Upon entering La Galerie Dior (tickets are €12), the viewer is greeted by a truly impressive diorama: a massive spiral staircase, lined with 3D-printed Dior accessories and displayed in a rainbow gradient from floor to ceiling. . East main coursemy guide tells me, it's the Instagram moment of space, something a quick search for "#galeriedior" confirms.
Moving through the exhibition space, a room titled The Enchanted Garden uses a combination of twinkling falling lights and atmospheric music by sound designer Reno Isaac to showcase a variety of exquisite ball gowns. Further along, an audio installation brings to life the voices of each of Dior's seven artistic directors (after Monsieur Dior himself came Yves Saint Laurent, followed by Marc Bohan, Gianfranco Ferré, John Galliano, Raf Simons and the current incumbent , Maria Grazia Chiuri), while a display case pays homage to famous women who have worn Dior ("Not Dior, not Dietrich," as Marlene, a resident of Avenue Montaigne, told Alfred Hitchock at wardrobe fittings for the film Stage Fright in 1950. She got her way.)
In another room of the Galerie, there are 13 in all, visitors can watch two dressmakers at work on a cloth using traditional craft techniques, a reflection of the house's belief in protecting the sanctity of these ancient traditions, which have been passed down from generation to generation. generations and are still used in haute couture This day. Some things, it is clear, cannot be improved through digital innovation.
The experience of visiting the store is so enthralling (my tour lasted three hours) that I found myself struggling to think of how a Dior flagship of the future could improve this one. A Dior metaverse, perhaps, with visitors enjoying a master class with a reconstruction of the man himself? Or the chance to sit front row at one of Galliano's legendary shows? For now, customers are enjoying the greater post-COVID-19 lockdown pleasures of a physical experience, while the spirit of Dior lives on, updated for a modern consumer and more desirable than ever.