get complete details of Fight at the Museum: 10 questions with Antoinette Marchfelder | hamilton post
from here, checkout more details.
Antoinette Marchfelder is a painter who works with acrylics. She paints on canvas, boards and people. Her work is fluid, colorful and powerful. She works at college and professional events, parties, and sports venues painting faces and touching up tattoos. She may have seen her work exhibited at the Brookwood Café in Mercerville, where she has shown three times in the last two years.
Whether on canvas or faces, her work is consistent and has a distinctive style.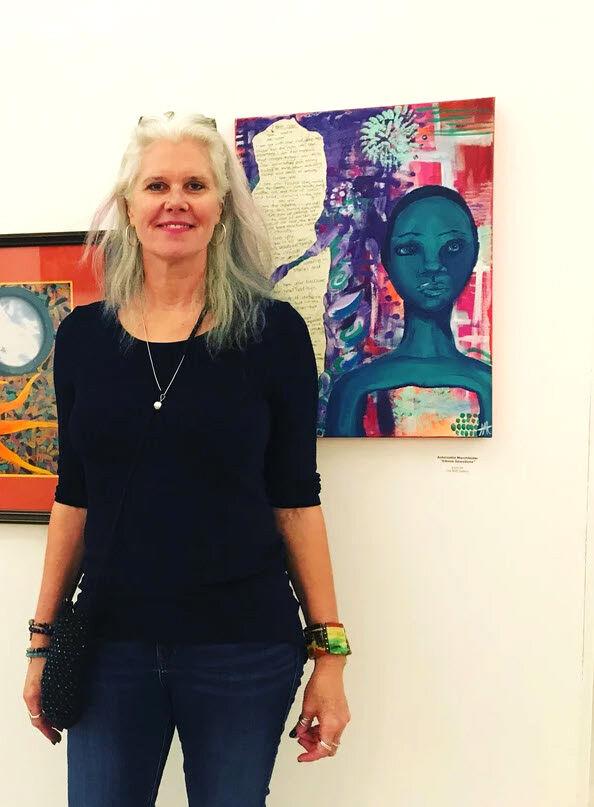 Share some of the media in which you work.
I am a mixed media artist and use mostly acrylic paint. I incorporate collage material, gold leaf, inks, pens, pastels, watercolors, along with stencils and stamps.
What are you communicating with your art?
In some of my work that represents women, it's about inner strength, no matter what we face and go through as women, we continue to grow. Usually in those, the hair is important to me… even if the woman is bald!
I know, that doesn't make sense. But hair, to me, represents freedom to express yourself, and it also symbolizes strength. A bald woman, to me, represents an incredibly strong individual who has overcome many battles and stands tall.
As for my abstract work, I must say that it is me entering a flow of paint, disconnecting from the outside world and letting my soul connect with the canvas. I never know where it will take me, but I always feel a deep satisfaction when I finish.
How did you start with face and body painting?
My church, at the time, was hosting a back to school event for the community and I thought I could help by painting faces. I have a friend who does this, so I asked her advice. Not only did she sit me down and give me a crash course on face painting, products, where to buy, who to look at, etc, but she also lent me her daughter's kit, had me practice, and then had me paint my face on an event. She was so nervous and she was telling the kids to go to the other artist's line!
I now face paint and airbrush all over the tri-state area for both small parties and large festivals. Currently airbrushing all Eagle home games at their stadium and Rutgers college football games. I'm lovin 'it!
Where have you shown in this area?
I recently had my art at the Brookwood Cafe, where I've shown it three times. I tend to show mostly in the Trenton area, Mill Hill Saloon, Starbucks, Trenton Social, and Artworks.
What struggle/struggle do you have regarding your art?
Consistency. I am lucky to have a studio in my home and my schedule gives me time to work on things. However, I am a creative who gets distracted and starts something, then sees something more attractive and wants to try it. I will come back to other projects, but I have some that I started more than 5 years ago!
Consistency is very difficult for me. I'm not good at working fixed hours and hours on art projects. I think a lot of this is due to being self-employed without a time card to mark.
I know that right now (summer), I'm in my peak face painting season and haven't looked at canvas painting in months. I won't let myself start anything. But as my season winds down, I'll get my paints out and get back into that flow.
How often do you paint?
Once I'm in that off-season space, I'll paint often. I tend to work intensely on something, if I have a vision for it. When that happens, I'll have an idea in my head. I can see it and I need to get it out on canvas.
When that happens, I'll paint for hours and days until I'm done. Also if I have deadlines. That is the best way for me to finish the paintings!
What face painting events are your favorites?
A few years ago, I painted my face at movie nights in Trenton. Every week I went to a different neighborhood and painted for 2 hours. I met the children and the parents. I keep doing events in different cities, and one of the joys of my job is to let the child decide the design, the colors and then see the first look when he looks in the mirror.
The moment of the magic mirror! Never get old!
What is the most fun thing about being an artist?
I consider myself an "enterprising artist". Art encompasses all of that: I get to be creative, I choose how I want to work on a project, I have a fair amount of flexibility over time. Depending on the project, I can go to a favorite cafe and work for a while, or in the woods. I am free to explore. Art can take many forms, so it's never boring.
The "entrepreneurial" part of that sentence is having different streams of income within my art. Sometimes that's just a little bit, or seasonal (face paint), but it keeps me going.
What is a dream project of yours?
Produce a number of plays and shows in New York, for starters. I haven't shown outside of this area, mainly because of that whole consistency thing. I need to focus on a plan and a deadline for that.
What's on the horizon? What are you waiting for?
I wish I could travel and continue creating art along the way. I've been doing a lot of digital art and I like the idea of ​​being a digital nomad. Not full time, but maybe a month a year to start.
Antoinette Marchfelder is online at amarchfelderart.com, merakifacebodyart.com@manotigredesigns and @merakifacenbodyart.