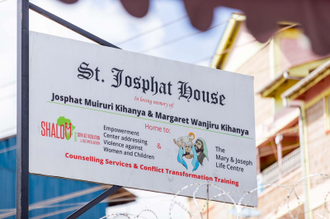 A socially significant event was recently held in Nairobi, Kenya, with the opening of the Mary & Joseph Life Center (MJLC), which is another outreach program of the Shalom Center for Conflict Resolution and Reconciliation, founded in 2009 by the Irish missionary priest Dr. Patrick Devine SMA. , who has ministered in Africa since 1988 and who recently received Kenyan citizenship.
The new center is located in St Josphat's House on the outskirts of Nairobi, where seven informal urban settlements or slums – Kawangware, Kabiria, Satelite, Kangemi, Dagoretti, Waithaka and Kibera – interact or are close to each other. It can also be accessed from the Mathare and Kariobangi slums, where Shalom also works to transform inter-ethnic conflicts and religious ideological extremism.
Devine explains that "the three main purposes of the Mary and Joseph Life Center are to offer pregnant women and girls, parents responsible for the pregnancy, and families who are considering or being forced to abort other options so that their babies are born. :
– Educational workshops and seminars aimed at preventing crisis pregnancies and assisting those already in need with psychological, spiritual and economic livelihood resilience counseling support, and
– Counseling, medical support, guidance and empowerment for women who have had abortions and seek assistance for trauma, self-esteem and healing in one way or another."
Thus, the center supports an expectant mother by providing care and support during the prenatal period and an opportunity for her and her newborn baby to live as a family unit. This implies the promotion of the well-being and dignity of women, children (unborn and unborn), motherhood, fatherhood and the family.
Judith Akedi Otsieno, Senior Project Officer, notes that "women who have had abortions and seek assistance in one form or another, such as trauma or medical care, will also be able to receive spiritual and medical advice, support and guidance." of well-qualified staff. "The Center," she says, "will help mothers who have made the difficult decision or were forced to terminate their pregnancy, to instill in them a renewed self-respect and empower other women, girls and families facing similar situations on how to be leaders". predicament. The Center will provide trauma healing and other forms of physical and psychological assistance related to past abortion experiences. At the core of our ethos and service will be a commitment to respect and dignity, and showing compassion for all who can help without exception. ."
Power imbalances and a lack of morality, ethics and the rule of law are some of the main factors that have created a paradigm in which women and children are often treated with violence. Project Officer Esther Njeri Kibe explained how "women are often in difficult situations and decisions are made for them. Despite the significant proportion of young people residing in slums, little attention has been paid to the challenges sexual and reproductive health problems they face during their transition to adulthood within their harsh environment Informal slums create a confluence of factors that place adolescents at higher risk for poor sexual and reproductive health Consequently, the increase in unwanted pregnancies and irresponsible sex, especially in urban slums, is one of the most worrying public health problems". She says, "It is a major reproductive health issue that imposes socioeconomic, psychological, and spiritual burdens, among other problems, on young women, children (unborn and born), and families."
The Hna. Catherine Mutua, a member of the Daughters of Santa Ana and a Social and Community Development Worker at the Center, says that within the framework of human rights and human dignity, "our work ethic will seek to reduce or eliminate immoral, unethical conduct , and illegal abortions that kill human life in the womb.The Center will help transform the physical, psychological and spiritual harm inflicted on pregnant mothers and their families, and prevent the termination of life of innocent unborn babies.Our services include access to prenatal crisis pregnancy counseling and support, and reproductive health information to educate women about their bodies and prevent future crisis pregnancies."
Sister Lucy Njori of the Dimesse Sisters is the Center Administrator. She says there is an urgent need for professionally managed services for women and girls in crisis pregnancy, who are considering or being forced to have an abortion, to have a chance to continue their pregnancies. "In the interest of those who live in informal slums and rural areas, who often suffer the negative impacts of violent conflict and war," she says. "We are equipped with high-quality counseling and related services, as well as utilizing all other related medical, psychosocial and spiritual institutions located in adjacent areas."
The Hna. Sarah Ngigi, also of the Dimesse Sisters and a nurse and counseling officer, explains that the Mary & Joseph Life Center "will equip women with services to help them make smart decisions, knowing they are not alone then or for years to come." ". , for her own well-being and the life of her unborn baby. When a woman with an unexpected pregnancy walks through our doors, we will offer her a free ultrasound in the presence of qualified personnel to help her decide the path forward for herself, her baby and his family. Thanks to the generosity of donors and Father Devine's fundraising work, we will offer an ultrasound that will give a pregnant woman an incredible view of what is going on inside her body, with amazingly detailed 3D images / 4D".
Sister Sarah explains that "the Center is committed to spreading God's powerful and transforming message of wishing great love, mercy, reconciliation and happiness for us. Providing counseling services will be an important part of this process. We make a special effort to reach out to youth on the threshold of adulthood and young married couples Educational workshops and seminars will be targeted to help prevent crisis pregnancies and to help those already in need Our educational programs will include topics such as fertility care and support , religious liberty, theology of the body, and more to be determined on the basis of need."
Nancy Mirera, who is a Counseling Psychologist and Mental Health Worker at the Center told me: "We seek to provide an environment of love and empowerment, emotional and spiritual support, immediate and practical guidance, information and counseling on pregnancy, prenatal health and education for parents. and professional advice We will strive to link the well-being of women with that of the child (unborn and born), parenting, the family and the health of society as a whole Empower or restore the dignity of women harmed in any way by past abortions is vitally important in the Center's ministry We believe that all women should have access to the information, support and understanding necessary to make informed decisions about their lives, that of their children (unborn and born) and the resilience needed for family life ahead.
"True equality and social inclusion require social protection systems to ensure that no human being, from conception to natural death, is denied their right to life and dignity," says Godfrey Okoth, Senior Project Officer . He points to the preamble to the United Nations Convention on the Rights of the Child which says: "The child, because of his or her physical and mental immaturity, needs special safeguards and care, including adequate legal protection, both before and after birth." . "Special attention should be paid," he says, "to the unborn who have no voice, but are in danger, in the hope that someone will speak for them. Our programs will seek to rescue pregnant women and children (unborn and born) of violence in the areas we serve.
Another Irish missionary, Father Oliver Noonan SMA, is the executive director of the Shalom Center for Conflict Resolution and Reconciliation. He refers to article 25 of the Universal Declaration of Human Rights, which states: "Motherhood and childhood have the right to special care and assistance." Fr. Devine points out how the elimination of violence against women and children is a human rights obligation as stated in various UN declarations and cites article 3 of the previous Declaration which states: "Everyone has the right to life, liberty and security of the person".
He says that "every day, women in East Africa face crisis pregnancy situations, which threaten their own dignity and that of their children. Medical, psychological, spiritual, emotional and economic support for livelihood resilience are for people in crisis and the Mary & Joseph Life Center is the first organization of its kind in Nairobi to offer this range of essential services to these women and girls."
The main purposes of the Center are aligned with the broader goals of the recently established "Shalom Empowerment Center addressing violence against women and children" which operates from the same location. These two centers are a logical addition to the valuable work of the Shalom Center for Conflict Resolution and Reconciliation focused on the transformation and resolution of inter-ethnic and religious ideological extremist conflicts in numerous marginalized territories of East Africa and in informal urban settlements or slums. . around Nairobi.
What impresses me about the three centers is the quality of the staff involved in each of them, all Kenyans, the strategic planning that has been embedded in their respective structures and programmes. The vision and leadership of Father Devine and Father Noonan are unique and exemplary. That vision and enthusiasm have been recognized and appreciated by its donors in the United States, Ireland and the United Kingdom, whose generous funding has made this essential and life-saving work a reality in poor and marginalized communities. from East Africa. As Fr. Devine humbly told me: "You have made a dream possible…they are an integral part of our work among the marginalized…they are what keep me and my wonderful team going, often in very difficult circumstances."
The title of my 2016 book was "The Irish Missionary Legacy Lives On." The vision of Father Devine, who has a Ph.D. in Political Science and Public Administration and a Master's in Peace Studies and International Relations, is a good example of that enormous legacy in Africa and the global south. He is a great international ambassador for Ireland in the true spirit of the Irish missionary tradition which was the foundation for international development as we know it today. That tradition is now being carried forward with the same values ​​by local and indigenous missionaries.
The Mary & Joseph Life Center, together with the Shalom Empowerment Center, will make life-saving change through its unique range of services for women and girls. Readers who wish to support his work can do so at: https://maryandjosephlifecenter.org/. Father Devine can be reached at [email protected]
Matt Moran is a writer based in Cork, in the Republic of Ireland. He is the author of 'The Irish Missionary Legacy Lives On' and will soon launch 'The Theology of Integral Human Development'. He is working on another book: "The Cultural Colonization of Africa by the West."