Five candidates running for 4 council seats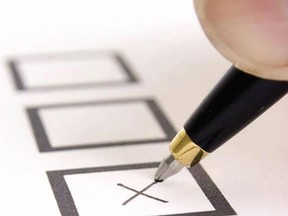 article content
After the October 24 municipal election, the Prince Township council will look distinctly different than it does today.
article content
For starters, it will include at least two new members, both women.
His leadership may also change, as Enzo Palumbo, a two-term councilman, is challenging Mayor Ken Lamming, who has led the council since 2010.
When the nomination period closed last Friday, the list of candidates for the council included incumbents Eugene Caputo and Michael Matthews, along with first-time nominees Margaret Christenson, Melanie Mick and Jane Weir.
Veteran councilman Ian Chambers will retire from city politics after serving three consecutive terms.
Lamming said that if he returns as mayor, one of his goals will be to raise funds to build a skate park on vacant city property east of the pavilion, so skateboard and scooter enthusiasts can enjoy their sport without having to travel to Sault Ste. Marie East End Facility.
article content
Lamming also wants to review a proposal to build a Prince senior community on downtown property, aimed at seniors who want to stay in the borough after selling their homes.
His third goal is to bring a new subdivision to Prince, but he declined to name the location, saying the project is still in the discussion stage.
"We need more people to come here if we want to keep taxes low," Lamming explained.
Challenger Enzo Palumbo said he is running for mayor to bring about "positive change."
He admitted that recent friction between some council members and municipal staff—which led to the resignation of former CAO Peggy Greco and the firing of her successor, Mary Lynn Duguay—made him consider leaving municipal politics.
article content
"(However), I was humbled by the number of calls and emails I received (from) Prince Township residents suggesting that I should seriously consider running for mayor," Palumbo said.
"One of my main goals is to restore a harmonious and professional environment between the council and the staff. (The staff) are professional and hard-working," she said.
Palumbo also expressed his gratitude to Greco, who returned to the municipal office as a consultant after the council voted narrowly to fire Duguay.
He added that his varied workplace experiences as a trainee, tradesman, manager, business owner and educator have ignited his pleasure in serving people.
Now, Palumbo said, he looks forward to serving the people of Prince Township.
article content
Count Eugene Caputo was appointed last fall to succeed the Earl. Dave Amadio, who resigned a year ago for personal reasons.
"I've learned a lot in the 10 months since I joined the council," said Caputo, who now serves as the council's liaison with the volunteer fire department.
Caputo, a lab technician at Tenaris Tube Algoma, is also a recording secretary for United Steelworkers Local 9548. He moved into his Walls Road home 16 years ago and hopes to promote Prince as a quiet, rural community minutes from Sault Ste.
"Prince is already great, and we can get better by listening to what new and existing residents want to see here," he said.
Caputo said he believes, however, that it is time to review the city's policies and follow them "to the letter," to avoid future conflicts between the council and city staff.
article content
"Staff roles are clearly established and must be followed," Caputo said. "The hard times are behind us and we must move on… We can accomplish more once our energy is focused on spreading the positives in our community."
Earl Michael Matthews said that if he is re-elected, he plans to revive the work of the senior services committee he launched in 2015 in an effort to bring foot care and other personal services to the community center, to save residents who no longer they drive. To the city.
He hopes to be re-elected as Prince's representative to the Sault Ste. Marie Region Conservation Authority (SSMRCA), and is also interested in promoting climate-friendly initiatives to reduce the borough's environmental footprint.
article content
Matthews added that when the Township's Official Plan is updated this term, it should allow the construction of new family homes while respecting the wishes of longtime residents to maintain their rural community.
He also wants to see the city provide high-quality services while keeping property taxes "reasonable."
Gros Cap resident Margaret Christenson filed her nomination papers well before Friday's deadline. She recalled how "shocked" she was at the time of the 2018 election, in which all incumbent council members were cheered after no other candidates came forward.
Christenson has served the Township in many roles since becoming a permanent resident in 2009. Upon her arrival, she was named Executive Director of the Prince Township Public Library, a position she held for four years.
article content
She is currently chair of the Friends of the Library and Prince Women's Institute, as well as chairing the museum board/heritage committee.
Christenson said he would like to see "more transparency" from the council and more respect among elected members and administrative staff.
"More can be done in a timely manner when people work together and respect each other," Christenson said. "The time saved can be used for long-term planning."
Melanie Mick, who regularly attends council meetings, says she has considered running for council "for the past two years."
Mick, a senior business analyst with the Ontario Lottery and Gaming Corp., is classified as a seasonal resident of the borough, but estimates she spends 90% of her time at her Prince Lake cottage.
article content
He said he believes the city could improve communications between the city office and taxpayers, and between the council and taxpayers, and hopes to be involved in the process.
"I'm a person who likes to understand the whole story of things so I can make an informed decision," Mick said. "I want the township to be successful and prosperous for many years to come."
Jane Weir grew up on the south end of Walls Road in Sault Ste. Marie but moved to Heywood Drive in Prince Township six years ago.
Weir, who works at RF Contracting as an administrative assistant, has volunteered on the township recreation committee for several years and now serves as its secretary.
In May, Weir helped the committee organize a successful craft sale at the community center, the borough's first large-scale post-COVID event.
"Prince Township is my home and I want to be a part of the process that will grow our community and improve it for current and future residents," Weir said.