get complete details of Women's Weekly: The Missouri Valley invite is upon us
from here, checkout more details.
Clean up your calendar. The biggest and toughest women's collegiate wrestling tournament of the year will take place November 18-19.
The Missouri Valley Invitational is loaded. This featured event features many of the top teams from the NCAA, NAIA and NJCAA programs.
Campbellsville, the 2022 NAIA Team Champions, will be there.
McKendree, the 2022 NCWWC (NCAA) Tag Team Champions, will be there.
Indian Hills, the 2022 NJCAA team champions, will be there.
In fact, all three of the current Division I women's programs (Lindenwood, Presbyterian and Sacred Heart) will be present. And Iowa could send a handful of independent fighters.
So far, 49 teams are scheduled to participate along with a handful of elite high school girls. This is a tournament you don't want to miss.
Hawkeye vs Hawkeye
Speaking of the Hawkeyes, Dan Gable's coaching tree has been extended to women's collegiate wrestling. Two of his best wrestlers, Mike Mena and Jeff McGinness, currently lead shows that will meet on November 20 at the Lions Duals.
Mena (head coach at Lindenwood) was an All-American from 1994 to 1997, placing seventh, third and fifth at 118 pounds before reaching the final of the 1997 NCAA tournament as a senior at 126 pounds. He moved down to the 126-pound weight class when McGinness (Simpson's head coach) took a redshirt season. McGinness ranked fifth as a freshman in 1994 before winning NCAA titles in 1995 (126 lbs.) and 1998 (142 lbs.).
"We are very excited to fight Simpson College on November 20 at the Lion Duals," Mena said. "Coach Jeff McGinness and I were on the 1995 and 1996 national championship teams together at Iowa. I was 118 and he was 126, so we trained together every day.
"Now, 25 years later, our collegiate women's wrestling teams will meet on the mat for the first time in women's wrestling history. It's great where the sport of wrestling is today and that it continues to bring people together."
the life of a king
Life University won doubles against Avila (46-1) and Presbyterian (29-16) on November 11 before hosting the Eagle Madness tournament the next day. Running Eagles coach Ashley Flavin watched 19 of her wrestlers compete in the tournament with one champion, four runners-up and 14 winners.
"We're always a bit apprehensive going into the first meet of the year as it's hard to gauge how the practice room will translate into meet," Flavin said. "Our freshman demonstrated why he was the #1 recruiting class in the NAIA and #2 overall.
"On Friday night we extended our double record for consecutive wins to 15-0. This is a very strong team and we have only begun to realize its potential."
King University proved that they are worthy of being crowned team champions at the end of the season. The Tornado had 12 place winners, including seven champions and nine runners-up.
High school stars Shelby Moore (123), Janida Garcia (136) and Valerie Hamilton (136) also participated in the tournament. Moore and Hamilton came in second and Garcia in third.
To see the full results, click here.
individual champions
101 pounds: Jessica Corredor (King)
109 lbs: Sage Mortimer (King)
116 pounds: Samara Chavez (King)
123 pounds: Vayle Baker (King)
130 pounds: Zaynah McBryde (Life)
136 pounds: Paige Wehrmeister (Presbyterian)
143 pounds: Viktorya Torres (King)
155 pounds: Tiffani Baublitz (King)
170 pounds: Cheyenne Bowman (King)
191 pounds: Katelyn Lewis (Brewton Parker)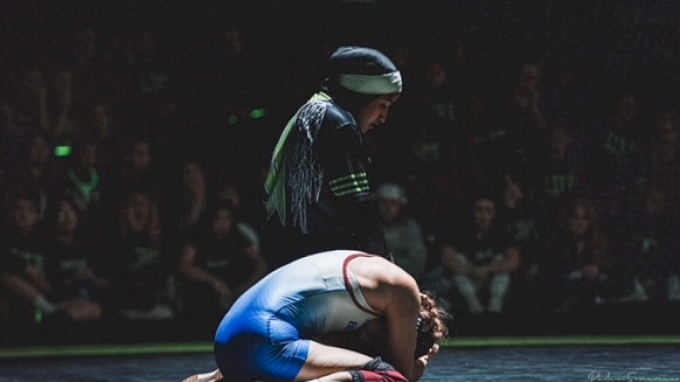 Zaynah McBryde named MSC Fighter of the Week
North Central is real
Joe Norton has plenty of reasons to smile after a weekend after the team decimated the field in the Adrian Duals and Adrian Open. The Cardinals went 7-0 in doubles and crowned seven of 10 champions. These numbers say a lot.
North Central at the Adrian Duals (7-0)
vs. Indiana Tech, won 29-18
against Tiffin, won 49-0
vs. Northern Michigan, 29-17
vs. Sacred Heart, 41-6
vs. McKendree, 33-12
vs. Hiram, 45-1
Scores of the top 10 Adrian Open teams (out of 21 teams)
North Central College, 422.5
Indiana Technological University, 234.0
Adrian College, 148.5
Sacred Heart, 107.5
Wisconsin Stevens Point, 98.5
McKendree, 95.0
Northern Michigan University, 82.0
Siena Heights, 55.5
Emory and Henry, 50.5
Elmira, 48.0
individual champions
101 pounds: Sydney Kutzke (Indiana Tech)
109 pounds: Sydney Petzinger (North Central)
116 pounds: Jaslynn Gallegos (North Central)
123 pounds: Payton Stroud (McKendree)
130 pounds: Cameron Guerin (McKendree)
136 pounds: Yele Aycock (North Central)
143 pounds: Kendall Bostelman (North Central)
155 pounds: Malea Palahniuk (North Central)
170 pounds: Yelena Makoyed (North Central)
191 pounds: Traeh Haynes (North Central)
To see the full results, click here.
"It was a tremendous weekend for our program," Norton said. "This is the fourth year of women's wrestling at North Central and we won more doubles on Saturday (7) than the first two years of our program combined (6 total).
"McKendree is a team we've been looking up to since day one. They came to our place and beat us 44-3 in January 2021. That was a win we had been waiting for a long time, but our eyes are forward and we look to the rest of the season with the challenge of going undefeated in dual meets and capturing the NCWW National Championship in March.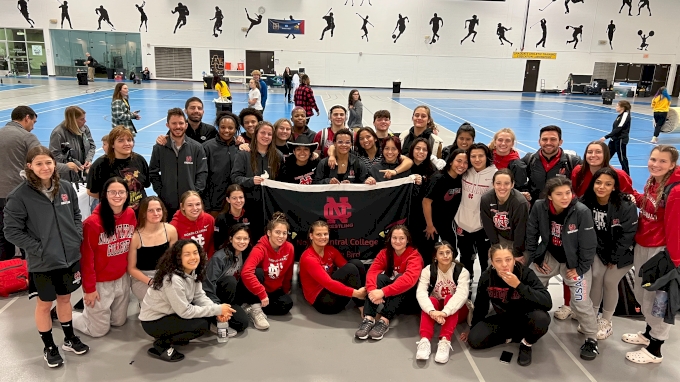 North Central dominated the Adrian Duals and the Adrian Open
McKendree Falls Three-handed
McKendree went 2-3 in the Adrian Duals with wins over Tiffin (28-13) and Northern Michigan (36-4), and losses to Sacred Heart (24-19), Indiana Tech (30-18) and North Central ( 33-12). The Bearcats return as the three-time National Women's Collegiate Wrestling (NCAA) Champions after losing just one double over the previous three seasons.
Notably absent from the lineup were NCWWC champions Alara Boyd (143) and Sydnee Kimber (191). Both are competing in the NWCA All-Star Classic on November 22.
Is southern Oregon ready for history?
The 2023 NAIA Championships will be the first sanctioned women's wrestling championships in university history, and Gabby Weyrich has built a team ready to challenge for the inaugural title. Southern Oregon clinched six titles and took nine to the final at the Mike Clock Open over the weekend.
To see the full results, click here.
individual champions
101 pounds: Esthela Treviño (Southern Oregon)
109 pounds: Alexia Seal
116 pounds: Natalie Reyna (Southern Oregon)
123 pounds: Carolina Moreno (Southern Oregon)
130 pounds: Victoria Baez-Dillone (Umpqua CC)
136 pounds: Bella Amaro (Southern Oregon)
143 lbs: Emily Se (Southern Oregon)+
155 pounds: Shannon Workinger (Menlo)
170 pounds: Joye Levendusky (Southern Oregon)
191 pounds: Grace Kristoff (Southern Oregon)
Women's Featured
Meet three-time All-American Marissa Gallegos of Colorado Mesa as she tries to win a national title this season.