When Diane Reay, a professor of education at the University of Cambridge, began research for her book on the educational experiences of working-class children, she had no idea how much inequality she would discover in today's public schools. "The most important thing I discovered was that we are still educating different social classes for different roles in society."
I expected to find that the English state system provided roughly the same education for everyone. But it's not like that. Even within a comprehensive school, when everyone is in the same building, the working classes still receive less education than the middle classes, just as they did when my dad was in school at the turn of the 20th century."
Reay's background informs his book and his opinions. The daughter of a coal miner and the eldest of eight children, she grew up on council estate and received free school meals. She then spent 20 years working as a teacher in London grammar schools before moving on to academia and ending up at Cambridge.
"My parents had a strong feeling that the education system had not been fair to them and they had missed it. I learned as a child that I had to work at least twice as hard as middle-class kids to achieve the same result. When I showed ambition: go to LSE [the London School of Economics and Political Science] being a political researcher, they told me it was not appropriate.
How much has changed? "This government is making inequality in education worse, not better," she says.
Reay conducted more than 500 interviews and identified most with the difficult and out-of-place kids — the "fighters," he calls them. "That was the kind of kid I was in school."
Now he hopes to open a national debate on what a socially just education would look like. "There is this incessant government babble about social mobility. But the free school and academy movement has made things worse for working-class kids, with more segregation and polarization." Despite free schools And academies that receive more per-pupil funding than state comprehensive schools typically educate fewer children who receive free school meals, he found. "Free schools and academies have more favored admission than comprehensive schools."
England does not have an education system that is serious about realizing every child's potential, he argues, with those receiving free school meals receiving a 27% student bonus. less likely to achieve five or more GCSEs in grades A*-C including English and math. Four-fifths of children from working-class ethnic minority families are educated in schools with high concentrations of other immigrant or disadvantaged students, the highest proportion in the developed world, according to a study. report by the Organization for Economic Cooperation and Development. Half of all children who receive free school meals are educated in just one fifth of all schools.
"There are predominantly middle-class comprehensives and predominantly working-class and ethnically mixed comprehensives, and for all the rhetoric about student bonuses, students in working-class comprehensives get less money per capita. They receive less qualified teachers. They get higher levels of teacher turnover and more substitute teachers. Even if they are in the same schools as middle-class kids, they are in lower brackets and, again, have less experienced teachers."
All of the children he interviewed had a powerful sense of their position in the academic hierarchy. "From the reception, now some kids are in four-year-old sets and they realize they're just in 'the monkeys' and that's not a very good group to be in. That means they're not very smart." She was struck by the anxiety displayed by very young children, who, she says, blame themselves if they are placed in the lower tiers.
Research suggests that it is the wealth and inclination of the parents, rather than the child's ability and efforts, that most influence a child's educational success today. "If you're a working-class kid, you're starting the race in the middle of the track behind the middle-class kid. Middle-class parents do a lot through extra resources and activities."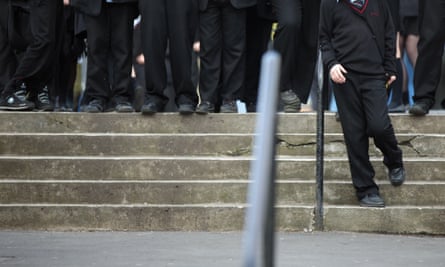 Less affluent children also receive a more restrictive educational offer, he found. "It wasn't until I talked to the young people about their experiences that I realized how different and unequal their education was. Because the schools that mostly working-class kids attend are not doing well on the league tables, there is a lot of pressure on their teachers and principals to increase their ranking on the league table. That means they focus mercilessly on reading, writing, and arithmetic."
Some children in these schools spoke wistfully of rarely doing art, theater or dance: "These children come from families where their parents cannot pay for them to do these activities outside of school. It almost feels criminal. It feels very unfair."
The difference between the amounts spent on the education of children in the private sector or in the state sector is marked. she quotes University College London research which found £12,200 a year is the average expenditure on a privately educated primary school pupil, compared to £4,800 on a state pupil. For secondary, it's £15,000 compared to £6,200.
"Society has become more unfair and the gap between rich and poor is much greater than 30 years ago. We need to go back rather than further in the direction of austerity, which seems to be punishing the poor."
She believes that the government's support for free schools and academies is powerfully ideological. "It is about opening education to the markets. I found it particularly shocking, and had to read some rather boring parliamentary reports to get the information, that vast amounts of money have gone into the academy and the free school program, and been taken out of the comprehensive school system."
Reay found that free schools receive 60% more funding per student that local authority primary and secondary schools, and that the £96 million originally earmarked for upgrading underperforming schools redistributed to academies.
To make matters worse, an analysis of Department of Education data reveals that the schools with the highest number of students with free school meals face the deeper funding cuts: In secondary schools with more than 40% of children receiving free school meals, the average loss per pupil will be £803. That's £326 more than the average for secondary schools as a whole. And elementary schools with a high number of working-class students are eit is expected to lose £578 per pupil.
Another blow being inflicted on working-class children is the way they are treated in some super strict schoolsReay argues. She says some academies operate on the principle that working-class families are chaotic and kids need school to assert control. "There are many quiet lines, standing to attention when an adult enters the room, and mantras. I think it's about disrespecting working class youth and their families.
"There is an academy where children have to say: I aspire, he aspires, she aspires, we all aspire."
Another issue is widespread setup and streaming. "There's a lot of research showing that it doesn't work, that actually, if you put kids in mixed-ability groups, most progress more.
"In addition, research on well-being shows that it is necessary to decrease the social distance between people. There is distrust, wariness, and anxiety for people who are different from us. That obviously came out in the Brexit vote. If you put children together in their classroom, they begin to learn that what they share is much bigger than the differences between them."
After her own education at Ashby Grammar School, Leicestershire, Reay went to Newcastle University to study politics and economics before landing a job as a primary school teacher in Islington. She did her master's degree in 1985 at the Institute of Education and then returned to teaching. She was the main breadwinner for her family and she managed to obtain funding to do a PhD in sociology at South Bank University when she was in her 40s.
He took up his first research position at King's College London a few years later and in 2001 was awarded a professorship at the Institute for Policy Studies in Education at London Met. After collaborating on a research project on school inclusion with Cambridge academics, he was asked to apply for his current job at the faculty of education in 2004. "If I hadn't already worked with colleagues at Cambridge, I don't think I would would have dared
As a Cambridge professor, she is also highly critical of Oxbridge's failure to attract working-class and ethnic minority students. But lowering entry requirements is not the solution, she believes. "The focus just on the admission level is really not going to change much. We are never going to have a critical mass of those non-traditional students to make a difference."
Instead of blaming non-traditional students for not applying, which she considers hypocritical, she'd like elite colleges to look at their entire culture and ethos. "You may have to ask yourself: how can we make ourselves more attractive to non-traditional applicants? The courses, for example, must be transferred to the 21st century, instead of staying in the 17th".
She was sure a debate was brewing about the diversity of Cambridge University reading lists, until the Telegraph published her inaccurate front page story alleging that a black student, Lola Olufemi, was forcing the university to remove white authors from its curriculum. "That poor woman was the subject of so many negative comments. The Telegraph's attitude was: who does she think she is?
Reay says that she felt compelled to write this book because she believes that things cannot continue as they are. "There needs to be a radical change in public opinion, so that we can say that this is too unfair and unfair. There has to be a new collective effort to make things fairer."
Miseducation: Inequality, Education and the Working Classes by Diane Reay (£12.99) can be ordered from the Guardian Bookstore